SELECTED WORKS
ABOUT
NEWS
CONTACT
Æffective Choreography
by André Uerba
𝗔𝗿𝘁𝗶𝘀𝘁𝗶𝗰 𝗗𝗶𝗿𝗲𝗰𝘁𝗶𝗼𝗻 & 𝗖𝗵𝗼𝗿𝗲𝗼𝗴𝗿𝗮𝗽𝗵𝘆
André Uerba

𝗖𝗿𝗲𝗮𝘁𝗲𝗱 𝘄𝗶𝘁𝗵 𝗮𝗻𝗱 𝗣𝗲𝗿𝗳𝗼𝗿𝗺𝗲𝗱 𝗯𝘆
György Jellinek, Jone San Martin, Lyllie Rouvière, Manoela Rangel, Pedro Aybar

𝗣𝗲𝗿𝗳𝗼𝗿𝗺𝗲𝗱 𝗮𝘁 𝗛𝗮𝗹𝗹𝗲 𝗮𝗺 𝗕𝗲𝗿𝗴𝗵𝗮𝗶𝗻 (𝟮𝟬𝟮𝟯) 𝗯𝘆
György Jellinek, Lea Fulton, Lyllie Rouvière, Manoela Rangel, Nattan Dobkin, Pedro Aybar, Kauri Sorvari

𝗦𝗼𝘂𝗻𝗱 𝗗𝗲𝘀𝗶𝗴𝗻 / 𝗟𝗶𝘃𝗲 𝗠𝘂𝘀𝗶𝗰
Kreatress

𝗦𝗼𝗻𝗴
Live rendition and excerpt of Vivaldi's "Cum dederit"

𝗗𝗿𝗮𝗺𝗮𝘁𝘂𝗿𝗴𝗶𝗰𝗮𝗹 𝘀𝘂𝗽𝗽𝗼𝗿𝘁
Meg Stuart

𝗟𝗶𝗴𝗵𝘁 𝗗𝗲𝘀𝗶𝗴𝗻, 𝗦𝗽𝗮𝗰𝗲, 𝗣𝗵𝗼𝘁𝗼𝘀, 𝗟𝗶𝘃𝗲 𝗠𝘂𝘀𝗶𝗰
André Uerba

𝗧𝗲𝗰𝗵𝗻𝗶𝗰𝗮𝗹 𝗔𝘀𝘀𝗶𝘀𝘁𝗮𝗻𝗰𝗲
Striid Koburger

𝗔𝗿𝘁𝗶𝘀𝘁𝗶𝗰 𝗔𝘀𝘀𝗶𝘀𝘁𝗮𝗻𝗰𝗲 𝗶𝗻 𝗔𝗻𝘁𝘄𝗲𝗿𝗽
Kreatress

𝗘𝘅𝗲𝗰𝘂𝘁𝗶𝘃𝗲 𝗣𝗿𝗼𝗱𝘂𝗰𝘁𝗶𝗼𝗻 𝗮𝗻𝗱 𝗣𝗿𝗲𝘀𝘀
Short Hope / André Uerba

𝗖𝗼-𝗣𝗿𝗼𝗱𝘂𝗰𝘁𝗶𝗼𝗻
Radialsystem

𝗣𝗿𝗼𝗱𝘂𝗰𝘁𝗶𝗼𝗻 𝗔𝘀𝘀𝗶𝘀𝘁𝗮𝗻𝗰𝗲
Apricot Productions

𝗥𝗲𝘀𝗶𝗱𝗲𝗻𝗰𝘆 𝗦𝘂𝗽𝗽𝗼𝗿𝘁
Tanzfabrik, Theaterhaus Mitte

𝗧𝗵𝗮𝗻𝗸𝘀 𝘁𝗼
Bernardo De Almeida, Berghain Team (Kirschan, André, Norbert), Filipe Serro, Kule, Dock11, Asier Solana

𝗦𝘂𝗽𝗽𝗼𝗿𝘁𝗲𝗱 𝗯𝘆 the NATIONAL PERFORMANCE NETWORK - STEPPING OUT, funded by the Federal Government Commissioner for Culture and Media within the framework of the initiative NEUSTART KULTUR. Assistance Program for Dance.

How does your body feel today? In this time of velocity and violence, choreographer and performer André Uerba explores intimacy as a practice of being together, along with five performers and a musician, in his new work "Æffective Choreography", which premiered at Radialsystem's SENSE series in 2022. The performance plays with the boundaries between sharing and withdrawing, movement and stillness, beauty and deception; the performers structure their encounter through a slow pace, propelling their bodies to attune, sink and merge together, refining their present moment.

The desire to make hidden things visible is unfolded by their intimate gestures. Collectively they turn their gaze to inner landscapes where slowness and touch become a main practice. Their bodies resemble a choir that acknowledges the group as a body itself.

André Uerba began his research on rehearsing intimacy during the process of "Burn Time" (2018) and continued through "Fire Starter" (2019/20), "Inviting Moments of Stillness" and "A hole the size of your touch" (2021). "Æffective Choreography" marks a new chapter in the research and is reinforced by his current training in bodywork by the Institute for Somatic Learning, Sexuality and Bodywork (ISB Berlin).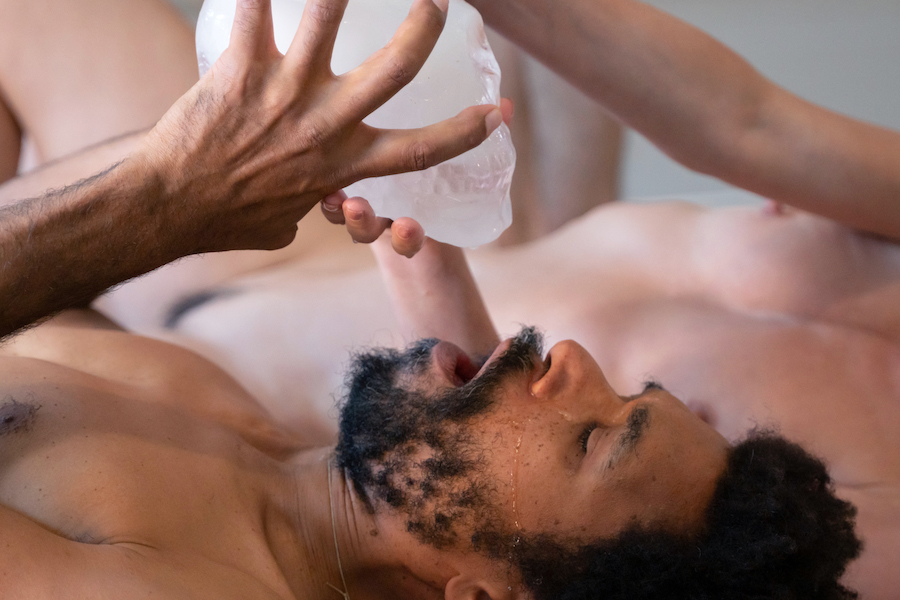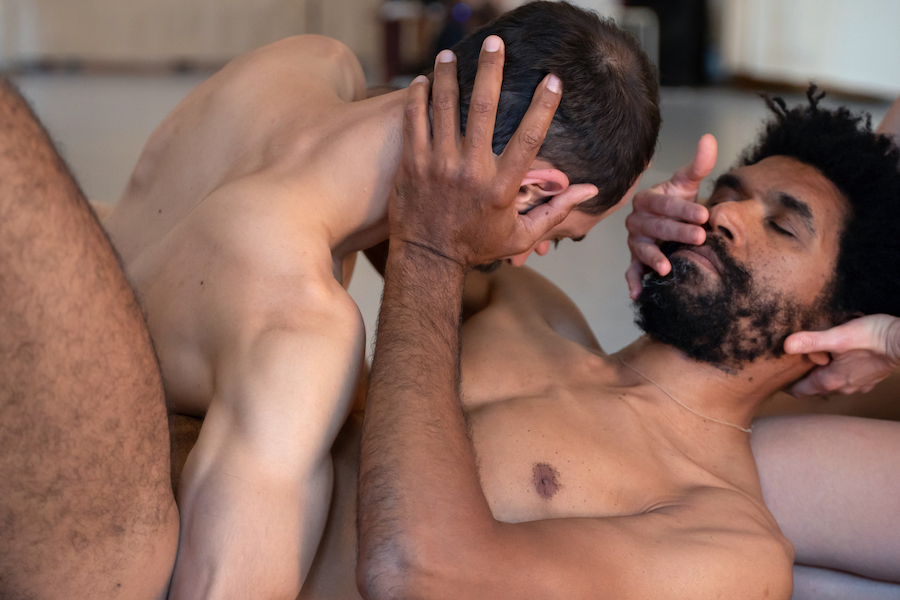 - 𝗦𝗘𝗡𝗦𝗜𝗧𝗜𝗩𝗘 𝗭𝗢𝗡𝗘𝗦 -

In André Uerba's Æffective Choreography the five performers György Jellinek, Jone San Martin, Lyllie Rouvière, Manoela Rangel and Pedro Aybar reflect on the feelings inherent in their bodies and show vulnerability. The premiere took place on July 29 as part of the SENSE program series at Radialsystem.

Clad only in socks or barefoot, the audience enters the bright dance floor and sits down. The summer evening sun shines through the windows of the Radialsystem, its warm rays are reflected by the Spree and glitter in the panes. Leaning against the wall, performers György Jellinek, Jone San Martin, Lyllie Rouvière, Manoela Rangel and Pedro Aybar slowly swing their bodies back and forth as one performer pushes a wheeled suitcase into the center of the room. Then the others join in, sitting around the suitcase and on top of each other as if their bodies were also furniture, their legs crossing over. They rub their genitalia against the heads and shoulders of the other performers, caressing hands. They hold each other by the neck, keep contact with each other. Sitting behind a mixing desk, the sound designer Kreatress accompanies the scene with a whispering hum.

With her eyes closed, performer Jone San Martin nestles against the wall where I sit. She begins to caress and undress herself, letting her clothes fall to the floor. By now it is so quiet that even the rubbing of fabric against the skin can be heard. Naked, the performers walk through the space picking up sheets from the floor, pulling them behind them as they walk, then holding them in front of their bodies. The semi-transparent sheets/fabrics show close-ups of genitalia –– their own? They cover themselves behind the photo prints, lie down with them, hide themselves and their faces behind the vulvas and penises. Still lying down, they curve to the side, lying tired and vulnerable in a row. Sounds of dripping ring from the loudspeakers and Kreatkress, who has meanwhile also taken off her clothes, hums a melody in a bright head voice.

After the performers have hung the clothes on a pole construction, they line up behind a microphone and introduce themselves by reciting fragments of memories that have shaped them. In doing so, they work their way from describing some of their external attributes (for example, weight, condition of teeth, number of siblings) to what they have experienced (early death of a parent, bullying based on appearance or sexual identity) and to their internal feelings (feelings of lust, shame, or loneliness). They talk about trauma and queer realities as well as humorous moments and their hormones, sharing their stories with the audience who feels and laughs along. The performers show their wounds and vulnerabilities, which they push through their lives like the rolling suitcase at the beginning of the performance. At the same time, they demonstrate self-love, which is their emancipatory resistance against dysfunctional sensations, relationships and judgments.

In the following sequence, the performers rub themselves with a cold block of ice, whereupon the drops wet the floor. The intertwined bodies also begin to melt into each other. The naked skin reddens due to the cold. To warm themselves up, the performers blow on each other's arms and bellies, so that it tickles and smacks, making the skin vibrate, transferring from the outside to the inside. Sitting and facing the audience, they eventually let their genitals imitate singing movements. Possibly to show that the semiologically loaded external genitals do not only exist for sexual stimulation. Or that the body does not have to strive for beauty and perfection, that it is okay the way it is, with all its supposed flaws.

Sensitive zones are often linked to the external genitalia in a sexualizing way. But feelings, emotions, memories and wounds also rotate in the body as embodied traces of human coexistence in societies characterized by violent power relations. As if locked in roller suitcases, these affects are often carelessly pushed through everyday life. André Uerba's Æffective Choreography traces these embodied and perhaps confused transitions and brings them to light in a processual interplay between social interaction and introspection.

Janine Muckermann
https://www.pokusberlin.com/empfindsame-zonen/2/
Photos: Alicja Hoppel
Video Stills: QuietCityFilms (Svea Immel, Paul Holdsworth)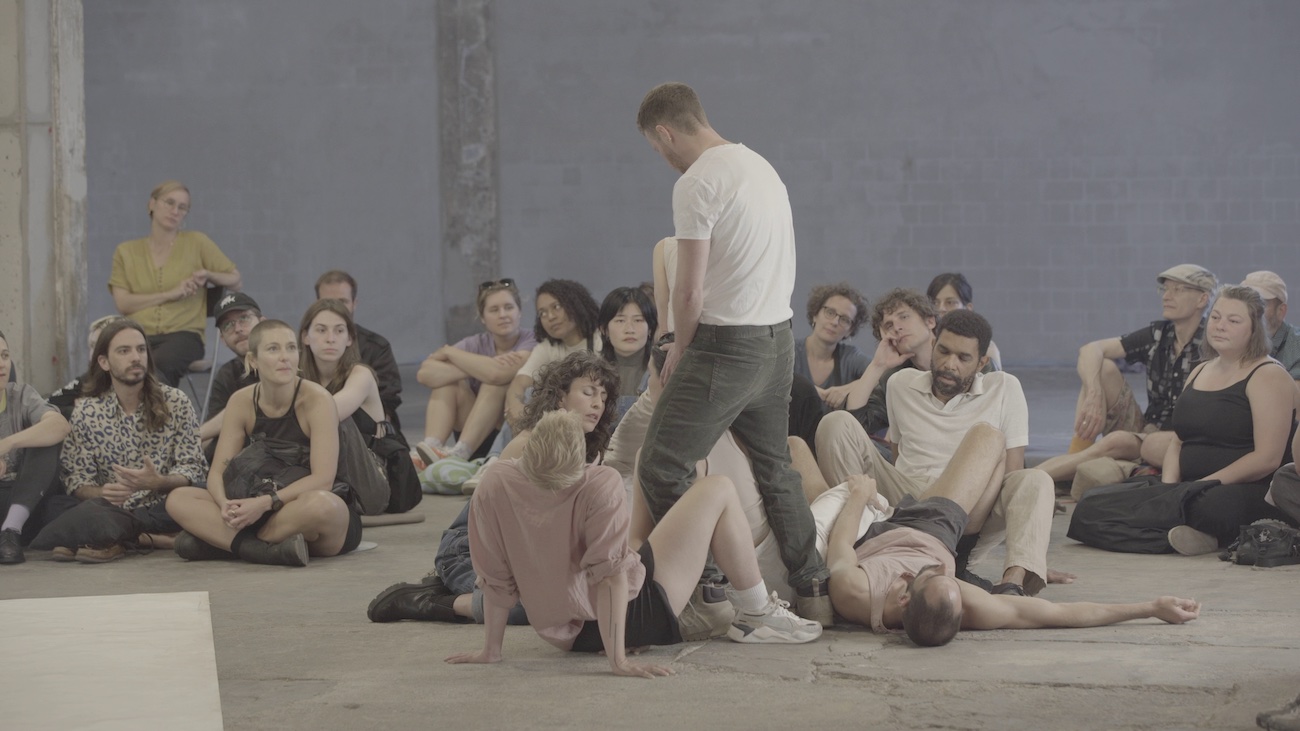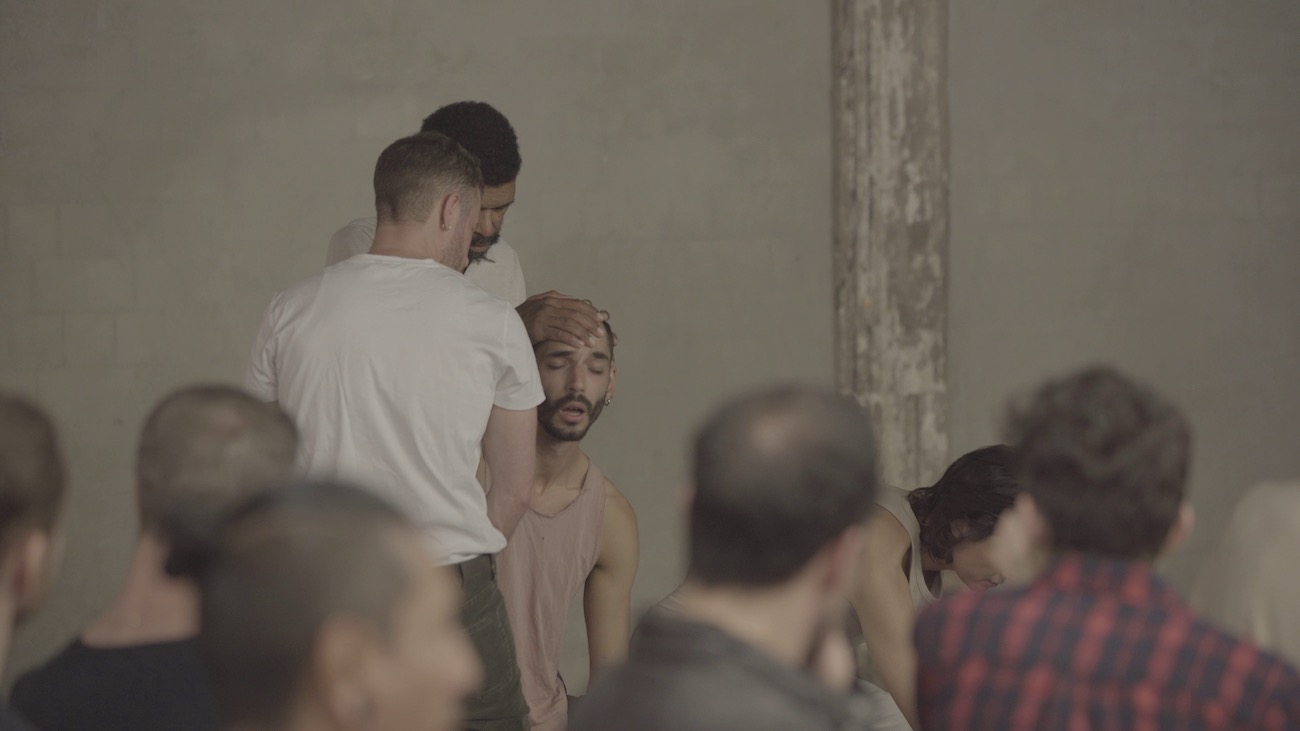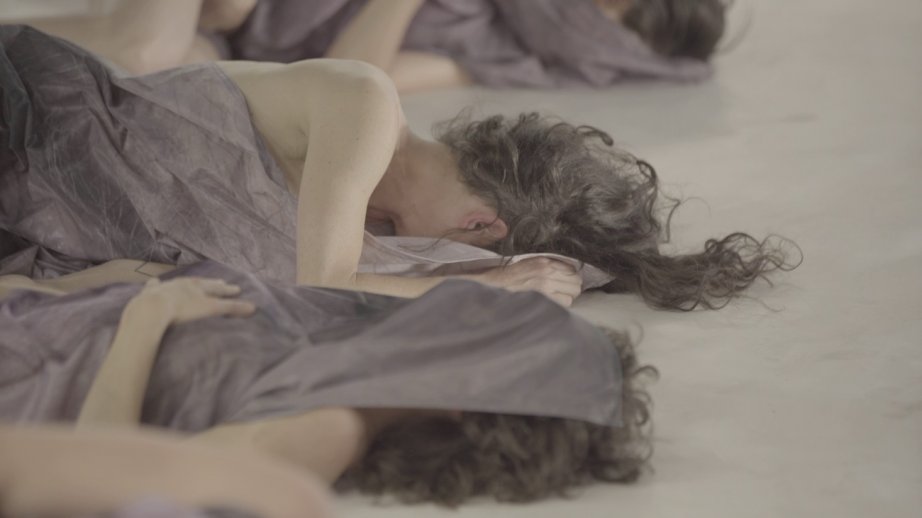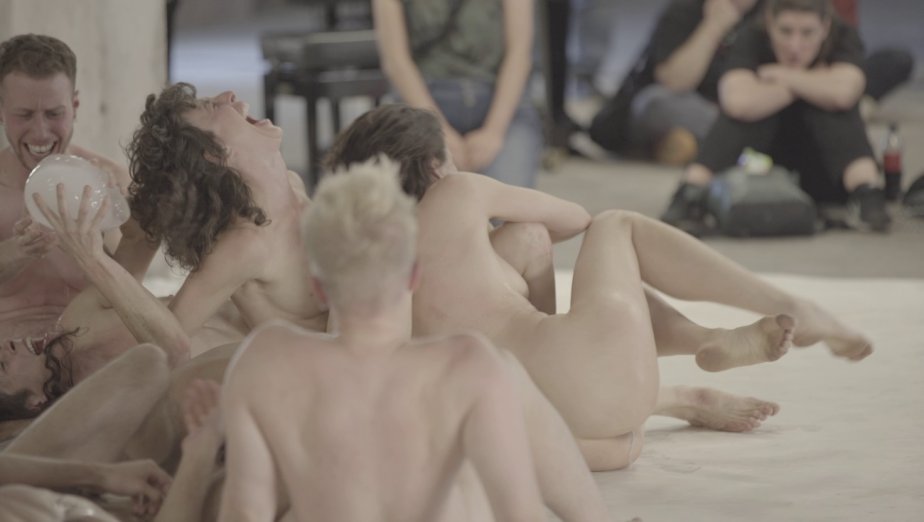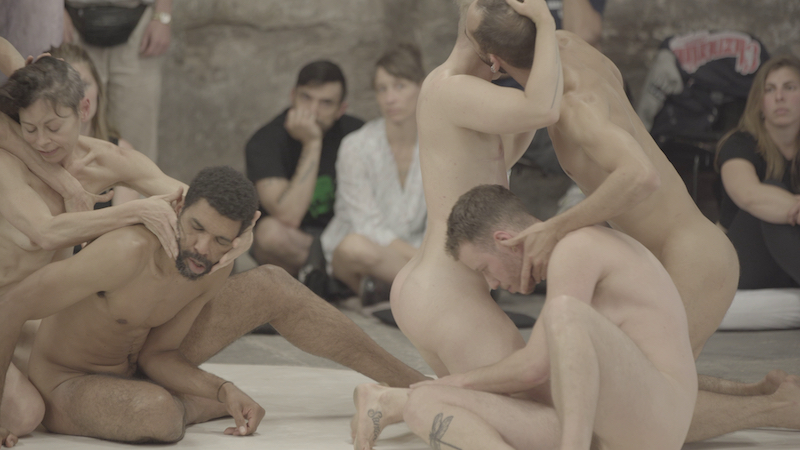 𝟮𝟬𝟮𝟯
Antwerp Queer Arts Festival, De Studio, Antwerp
Halle am Berghain, Berlin
Tanzbiennale Heidelberg, Germany

𝟮𝟬𝟮𝟮
Radialsystem, Berlin