SELECTED WORKS
ABOUT
NEWS
CONTACT
UM BURACO DO TAMANHO DO TEU TOQUE
BoCA – Biennial of Contemporary Arts
1, 2 & 3 October 2021
NATIONAL MUSEUM OF CONTEMPORARY ART, Lisbon

𝗖𝗼𝗻𝗰𝗲𝗽𝘁, 𝗔𝗿𝘁𝗶𝘀𝘁𝗶𝗰 𝗗𝗶𝗿𝗲𝗰𝘁𝗶𝗼𝗻
ANDRÉ UERBA

𝗖𝗼-𝗖𝗿𝗲𝗮𝘁𝗶𝗼𝗻 & 𝗣𝗲𝗿𝗳𝗼𝗿𝗺𝗮𝗻𝗰𝗲
AUGUSTO AMADO
BEATRIZ DIAS
CÁTIA LEITÃO (aka ALFACE)
MIGUEL NUNES
SILVANA IVALDI

𝗦𝗼𝘂𝗻𝗱 𝗗𝗲𝘀𝗶𝗴𝗻 "𝗬𝗼𝘂 𝗮𝗿𝗲 𝗚𝗼𝗼𝗱", "𝗪𝗼𝗼𝗱𝘀" & "𝗪𝗮𝘃𝗲𝘀"
ANDRÉ UERBA

𝗖𝗵𝗼𝗶𝗿
CORO DOS ANJOS / EDGAR VALENTE
with:
Catarina Monteiro
Anabela Carrazedo
Sara Mercier
Anaïs Thínon
Helena Leonarda
Miguel Fernandes
Joana Veiga
Sofia
Florencia Zsigmond
Andrea Vertessen
Camila
Teresa Charata
António Rivotti
Beatriz Leonardo

𝗠𝘂𝘀𝗶𝗰 𝗘𝘅𝗰𝗲𝗿𝗽𝘁
"GUITARRA" de RODRIGO LEÃO e PEDRO MAGALHÃES

𝗟𝗶𝗴𝗵𝘁 𝗗𝗲𝘀𝗶𝗴𝗻, 𝗢𝗯𝗷𝗲𝗰𝘁𝘀, 𝗖𝗼𝘀𝘁𝘂𝗺𝗲, 𝗢𝗰𝗮𝗿𝗶𝗻𝗮𝘀
ANDRÉ UERBA

𝗔𝗿𝘁𝗶𝘀𝘁𝗶𝗰 𝗥𝗲𝘀𝗶𝗱𝗲𝗻𝗰𝘆
RADIALSYSTEM Berlin, FLUTGRABEN PERFORMANCES, ESTÚDIOS VICTOR CÓRDON

𝗣𝗿𝗼𝗱𝘂𝗰𝘁𝗶𝗼𝗻
SHORT HOPE

𝗖𝗼-𝗣𝗿𝗼𝗱𝘂𝗰𝘁𝗶𝗼𝗻
BoCA - BIENNIAL OF CONTEMPORARY ARTS (PT)

𝗙𝗶𝗻𝗮𝗻𝗰𝗲𝗱 𝗯𝘆
FUNDAÇÃO GDA

𝗦𝘂𝗽𝗽𝗼𝗿𝘁
CÂMARA MUNICIPAL DE LISBOA, POLO CULTURAL GAIVOTAS / BOAVISTA,
ESTÚDIOS VICTOR CÓRDON
RADIALSYSTEM

𝗣𝗵𝗼𝘁𝗼𝘀
BRUNO SIMÃO

𝗧𝗵𝗮𝗻𝗸𝘀 𝘁𝗼
TIAGO GANDRA, ISABEL CANDEIAS, CARLOS RAMOS, CURVA ATELIER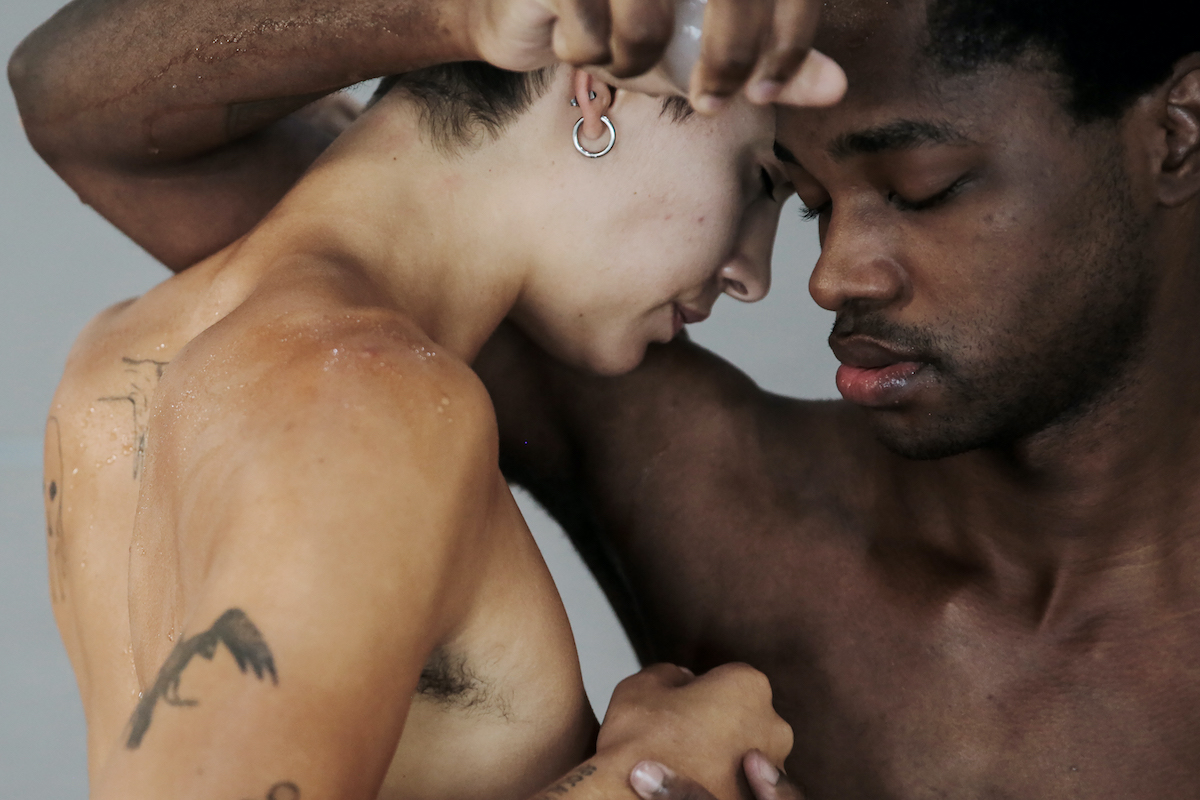 "How does touch manifest in our bodies and what traces does it leave in an encounter?" André Uerba explores the different dimensions of touch, its properties, qualities and complexities.

Through deceleration, inhibition of the sense of sight and a kinetic and somatic approach to the body and its movement, André Uerba and the performers explore different ways to get to know and feel each other. Bodies that meet, coordinate and communicate non-verbally – opening a space that is understood as political – in an urgency to find spaces to care for the body, exploring listening zones which are not guided by the mind. André Uerba proposes a return to the body, to the pulse of nature.

Understood as a choreographic reflection that intertwines touch and proximity, this project is a research on touch that begun in 2019 in the frame of the Flutgraben Performances (1 Year Residency) and continued during the residency at radialsystem in 2021 (both in Berlin). "Um buraco do tamanho do teu toque" or "A hole the size of your touch" is an hybrid of research-performance that is expanded in this presentation at BoCA in October 2021.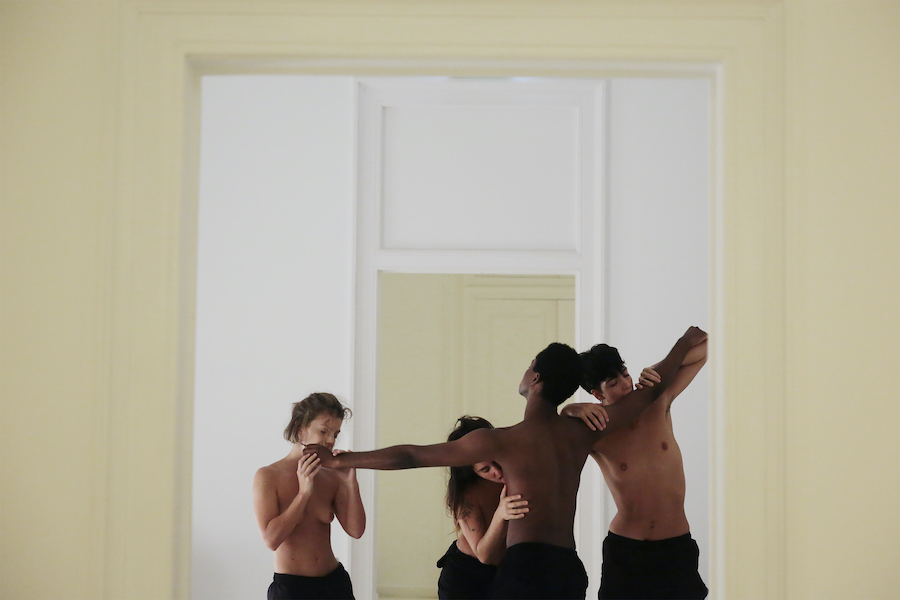 Photos: Bruno Simão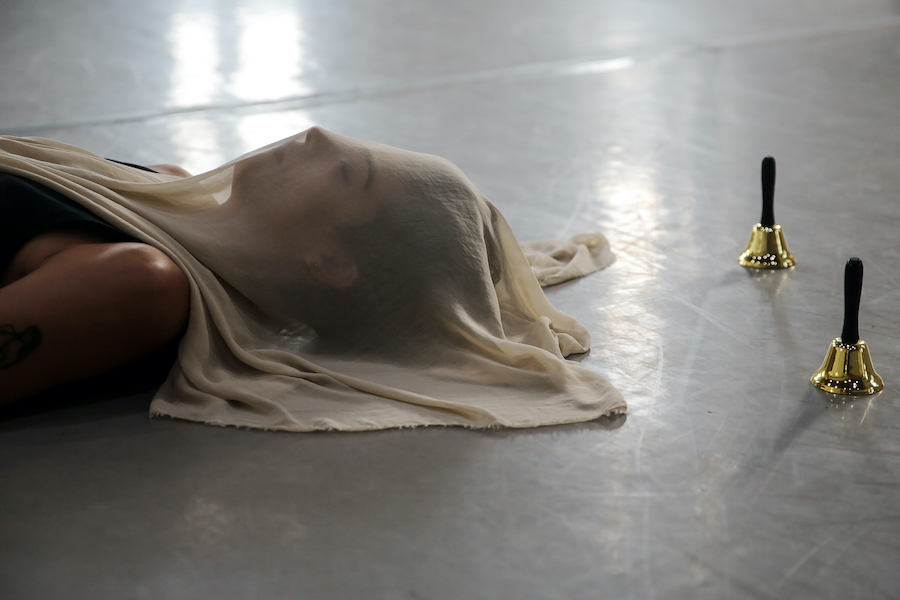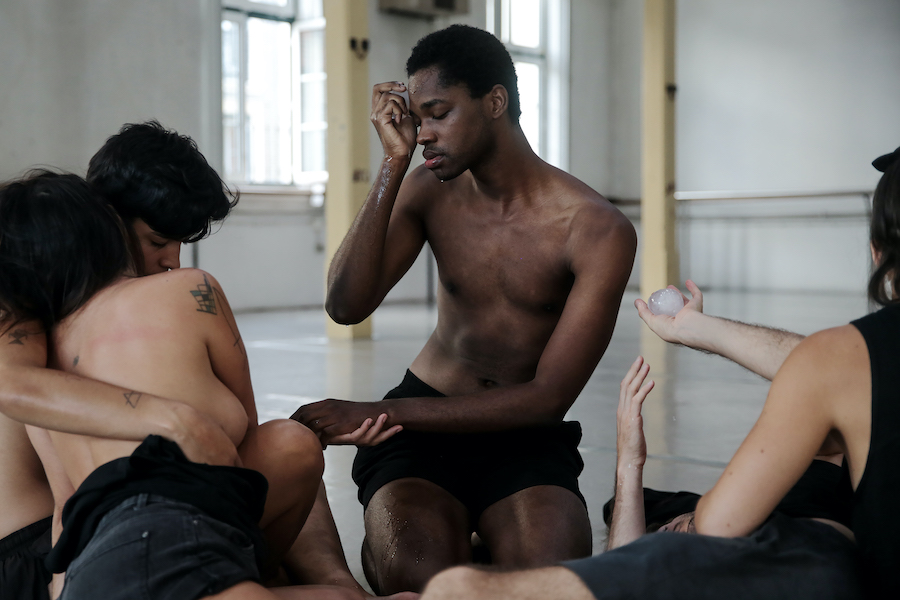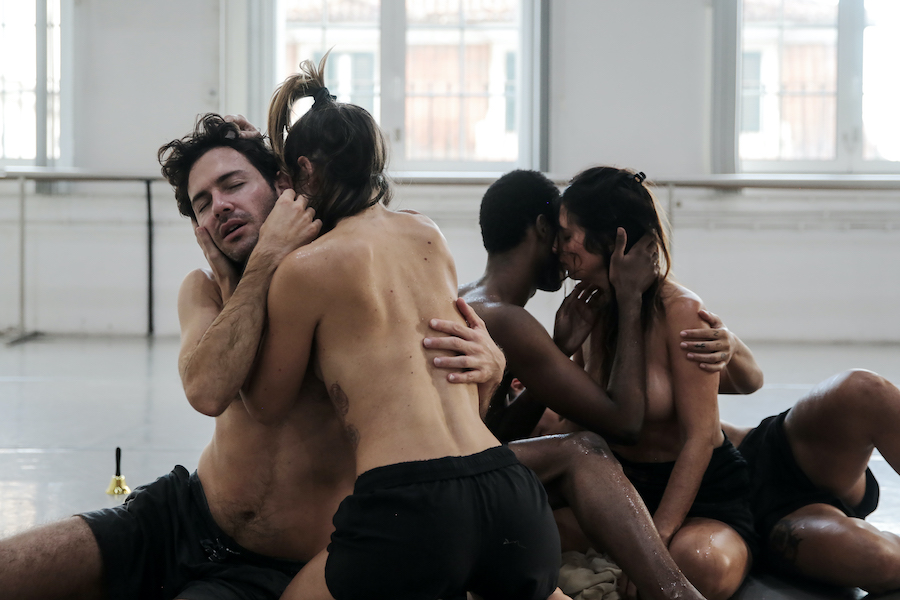 by ANDRÉ UERBA
A HOLE THE SIZE OF YOUR TOUCH
watch trailer
THE MATTER OF DESIRE

In the modus operandi of democratic capitalism, bodies become docile to the point of annulling their vitality, in favor of integration into the machinelike rigor of a fitness that confers them an unshakable formal autonomy. Subverting this strategy, André Uerba demonstrates the way in which corporeal intensity is only able to exist through its constant modeling, via another. "A hole the size of your touch" begins with a collective body presented as the most intangible of images: a star. When this image is dissolved, the bodies will be drawn away from loneliness by a magnanimous power of mutual attraction. But the return to the field of relationships implies total surrender and abandonment, upon the collision of bodies that burrow until. Desire shapes the bodies according to its same design, or, as it resonates through space, "the guitar itself teaches you to sing, whoever you are." Accessing the incorporeal matter of eroticism, the bodies elongate in contortions that provoke sighs, moans, laughter, exchanges of languid glances. Modeled by desire, the sensual gracefulness of the bodies appears only as a vehicle for voluptuous contacts, in which the dilution of bodily limits leads to the loss of the capacity for spatial orientation. Inhabiting an unfathomable dimension, desire takes possession of individuals whose identity will always be at the mercy of a power of mutual attraction, constituting incessant games of shadows and reflections. In its epilogue, the piece runs as if a negative of the previous events, placing the performers in an opaque nudity that leads them to a radical distance and isolation. In an adjoining space, other performers (the choir) go on chanting in chorus a chant prolonged as a mantra: "You are good...so good to me". Meanwhile, inert bodies improvise ocarinas whose loose notes fail, still and always, to meet the melody that welcomes them. In this movement of the long wait, the room becomes an enclosure pregnant with gift, in which the blind and mute bodies acquire their natural vitality. After the stay in the strictest absence, the matter of desire would finally have "the shape of a heart, the shape of a guitar." The performance develops as cycles of death and rebirth, in which absence and presence, interior and exterior, concave and convex alternate and become reversible. Just as the expansion of a star is due to the depth of its holes, each member of the collective body reaches its plenitude precisely after absolute immersion in a void that generates the pulse of life.

Fernando J. Ribeiro