"Dear André,
I just met Jan by chance and it reminded me that I had messily wrote a few words in my notebook coming back home after your performance "Fire Starter" at Flutgraben a few weeks ago. I feel it is nice to share them, even though I didn't really have some (words), but rather strong memories of it coming back during the following night while thunder rumbled. So I simply want to thank you for what I took as an invitation to make the ego blink and witness the appearance of sensibility in the space. Thanks for this flashy touch that has a crazy delay in the physicality".

M. B.
24.02.2020

𝗖𝗢𝗡𝗖𝗘𝗣𝗧, 𝗔𝗥𝗧𝗜𝗦𝗧𝗜𝗖 𝗗𝗜𝗥𝗘𝗖𝗧𝗜𝗢𝗡, 𝗟𝗜𝗚𝗛𝗧 𝗗𝗘𝗦𝗜𝗚𝗡
André Uerba

𝗣𝗘𝗥𝗙𝗢𝗥𝗠𝗘𝗥𝗦 (𝗕𝗘𝗥𝗟𝗜𝗡 & 𝗟𝗜𝗦𝗕𝗢𝗡)
André de Campos, Agustin de Olarte, Almudena Vernhes, Cait Fisher, Catarina Gonçalves, Daniel Matos, Daniel Pizamiglio, Diego Agulló, Emeka Ene, Fer Balsera, Forough Fami, Harald Stojan, Henrique Furtado, Isabél Zuaa, Jorge De Hoyos, Juan Felipe Amaya González, Liselotte Singer, Lyllie Rouvière, Luisa Rodriguez, Marcell Proske, Mariana Nobre Vieira, Maurícia Barreira Neves, Marc Lohr, Manoela Rangel, Michael Ludwig, Michela Filzi, Nitsan Margaliot, Pauline Payen, Ronald Berger, Silvana Ivaldi, Tiago Gandra, Xenia Koghilaki.

𝗦𝗢𝗡𝗚 / 𝗠𝗔𝗡𝗧𝗥𝗔 (𝗬𝗢𝗨 𝗔𝗥𝗘 𝗦𝗪𝗘𝗘𝗧)
André Uerba

𝗠𝗨𝗦𝗜𝗖
Svarte Greiner

𝗘𝗫𝗘𝗖𝗨𝗧𝗜𝗩𝗘 𝗣𝗥𝗢𝗗𝗨𝗖𝗧𝗜𝗢𝗡
Short Hope

𝗦𝗨𝗣𝗣𝗢𝗥𝗧
Flutgraben Performances (Berlin)

𝗦𝗣𝗘𝗖𝗜𝗔𝗟 𝗧𝗛𝗔𝗡𝗞𝗦
Bernardo de Almeida, Clément Layes, Flutgraben Performances, Jasna L. Vinovrski

𝗩𝗜𝗗𝗘𝗢 𝗦𝗧𝗜𝗟𝗟𝗦
Stella Horta

𝗣𝗛𝗢𝗧𝗢𝗦
Alípio Padilha


CREDITS
"I'm concerned with what I want to create in this time of tension and acceleration, so I am searching for something that is close to me, to something that makes sense to me and the ones I care for - a moment of affection. There is an urgency to develop this work now, as I feel the impulse to follow my intuition of creating a performative space of care where the audience is also involved. To create a choreographed space where spontaneous dance and caresses can co-exist and melt".
- André Uerba, November 2019 -

With FIRE STARTER the performers approach the emergence of togetherness and explore how these states manifest in our bodies and in an encounter with other people. FIRE STARTER is a research space where the audience can ignite their own participation, by deciding their role: if they are watching, moving or floating in both spheres. The "exercises" done during the performance are a trigger to allow the audience other entrance points in the experience of the performance. The performer itself, takes the place of a caretaker, a sort of "tour" guide that conducts the experience during the piece.

This research was first presented in the frame of Flutgraben Performances (Berlin) on the 16th of November 2019. The 2nd research phase was presented on the 9th of February and the third on the 23rd of February 2020 in the frame of "Dançar é a Minha Revolução #2" in Lisbon.




SELECTED WORKS
ABOUT
NEWS
CONTACT
FIRE STARTER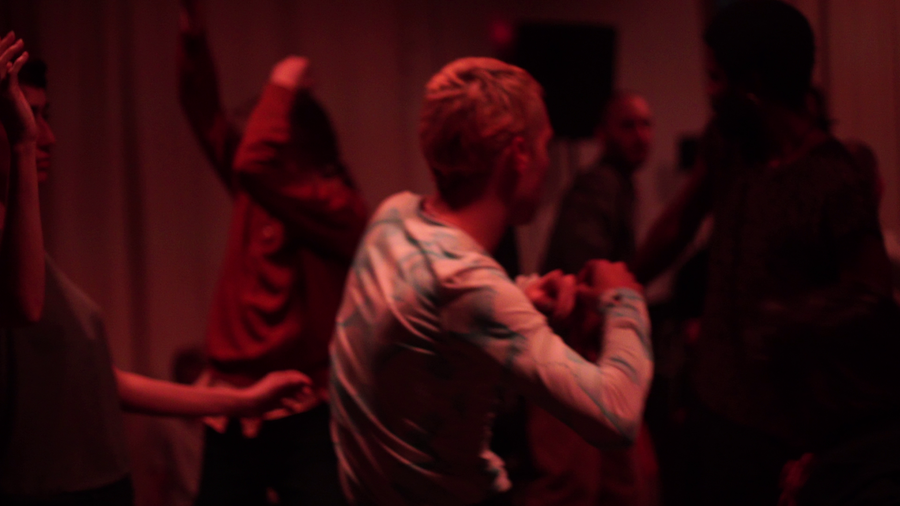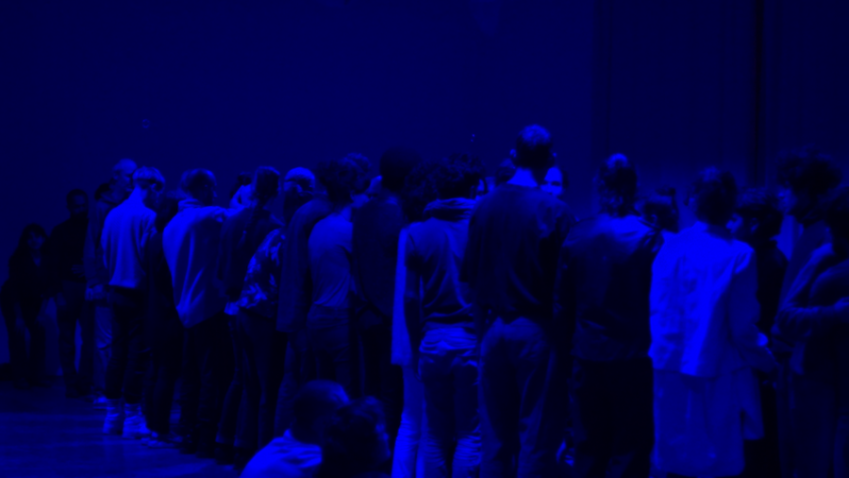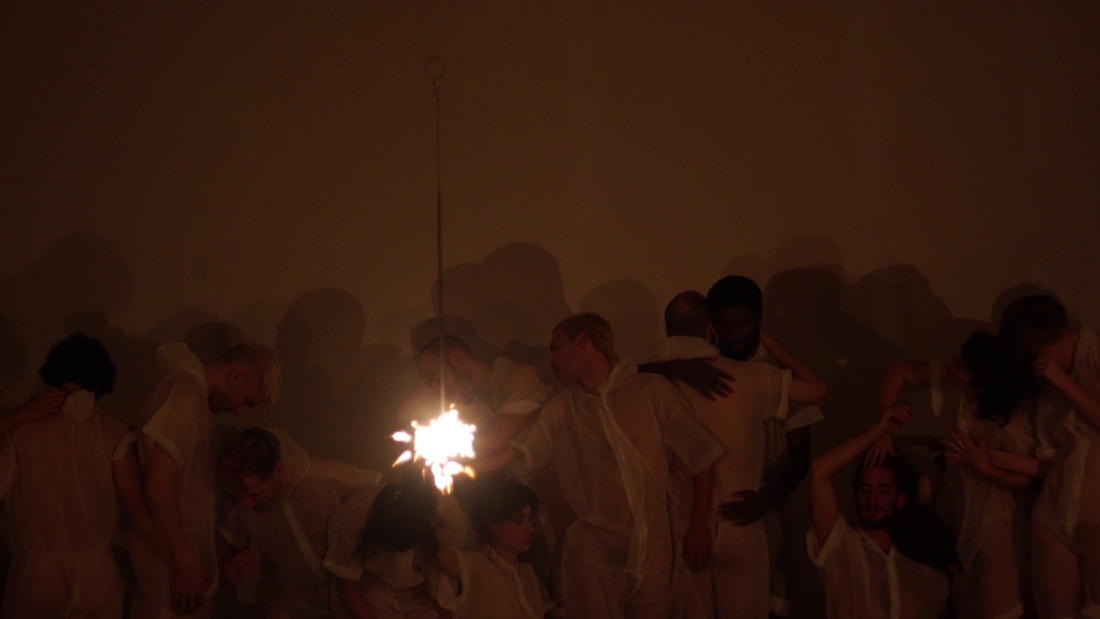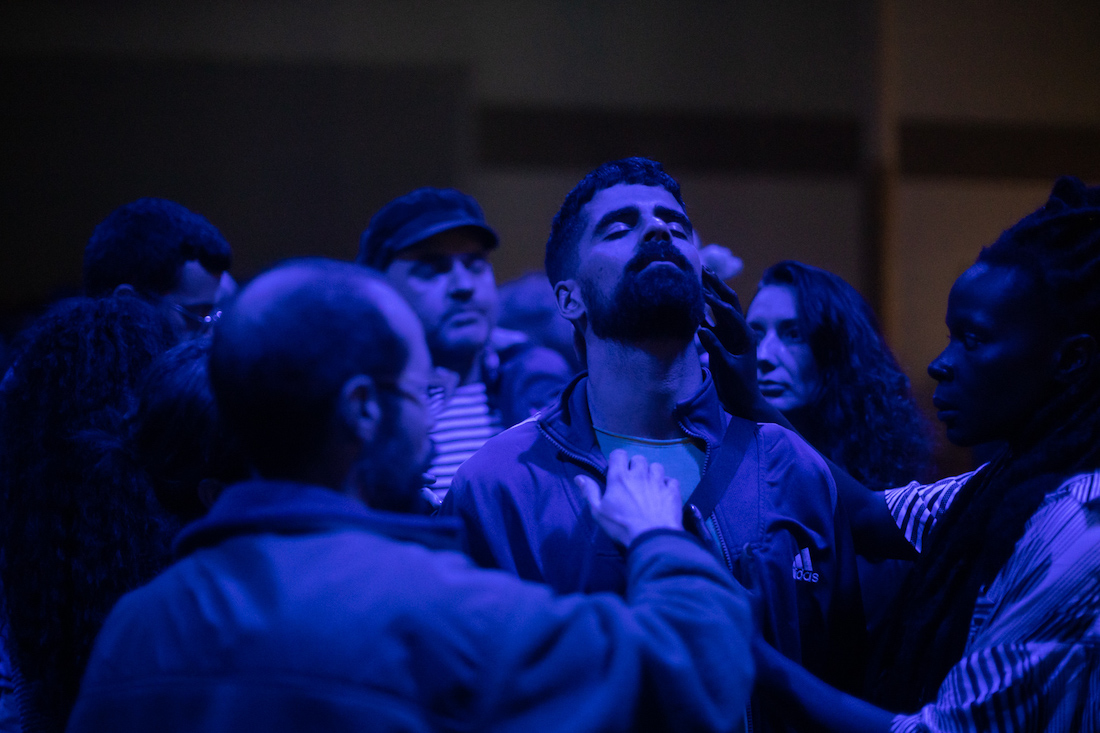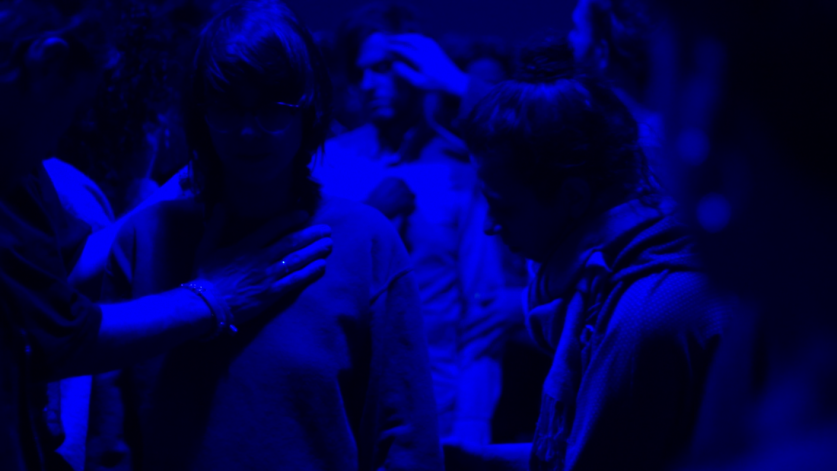 REACHING CARE & EMPATHY
by Nitsan Margaliot


FIRE STARTER was presented in the frame of Flutgraben Performances (Berlin) as a pre-research study in November 2019. In the first sharing of the work we were invited to take part in what I experienced as a human carwash, with eyes closed and a place to refuse, we had the opportunity to experience and expand our allowance towards mutuality, where our bodies were softly calmed through touch, we entered an experience where skin was light and a relationship between witnessing, following and vibrant exposure was shared tenderly.

The sharing suggested a place to see one another and to discover through one another. While spectating via a sensorial experience, we were able to witness each other's potentiality; the environment created was intimate and poetic.


Through gentle suggestions to share our similarities and move together, mysterious paths to recognition and identification (which are such a vulnerable and highly needed human qualities) reminded how the sacred rhythm of the journey allow the people in the room a multiplicity of lenses to see and feel ourselves through the performers and the other way around.


I was able to experience the piece through a sensorial mode, it hinted care, patience and suggested a way to be together with glimpsed reminders to the fact that we all carry a body and a wish to feel and get to know one another even though we carry fears and desires within us, the ticking glimpsed sparkles of light were creating hope, and warmth within the absolute darkness (similarly to the times in which we are in).
The piece served as a platform to get to know ourselves and one another together through multiple visual symbolisms, ancient fire glimpses and familiar fireworks as well as a moving sound score, we were reminded of our forgotten histories and possible utopian futures. André created a proposition to gather 'in birthday suit' with curiosity towards cyclical path, where heightened awareness on touch and sight, returning to the senses and to the body opened the gate to curiosity, pleasure and acceptance.
by André Uerba
PERFORMANCES:

11 June 2022, Galerie Wedding (Berlin), in the frame of Movement Research ACROSS

9 February 2020, Flutgraben Performances, Berlin

23 February 2020, "Dançar é a Minha Revolução #2", Mercado Forno do Tijolo, Lisbon, Portugal

16 November 2019, Flutgraben Performances, Berlin